"Anti-Inflammatory Diet Designed by a Woman for Women"
A.I.M is an anti-inflammatory menu created by The Healthbar and Tina Chagoury, Clinical Dietician and Breast Cancer survivor
A.I.M is specially designed for women's weight loss and hormone health. Curated recipes from around the world, rich in antioxidants and anti-inflammatory properties that aim at healing your guts, balancing your hormones and helping you shed the extra weight.
All A.I.M recipes are rich in functional foods carefully picked: only grass-fed high-quality beef, organic hormone free chicken, omega 3 fortified eggs and seasonal, locally sourced fruits and vegetables in addition to low Glycemic load complex carbohydrates.
All A.I.M recipes are low Gluten, Dairy, Processed sugar and Processed oil.
The menu includes seed cycling, prebiotic & probiotic rich food, daily smoothies and infused detox water in addition to the gut healing broth from The Broth Lab, in most of the stews.
Hand Picked Ingredients To Support The Anti-Inflammatory Menu:

Grass fed beef

Organic hormone free chicken

Wild caught fish

Locally sourced fresh produce
WHAT IS INFLAMMATION AND HOW IS IT RELATED TO FOOD?
Acute inflammation is the body's natural response against injury which usually produces pain, redness and swelling in the injured area, and heals after a short time: all part of our healthy immune system. Sometimes however, low-grade inflammation persists and happens deep in the body's tissues: this type of inflammation is associated with weight gain, some cancers, cardiovascular disease, arthritis, asthma, high blood pressure, and diabetes.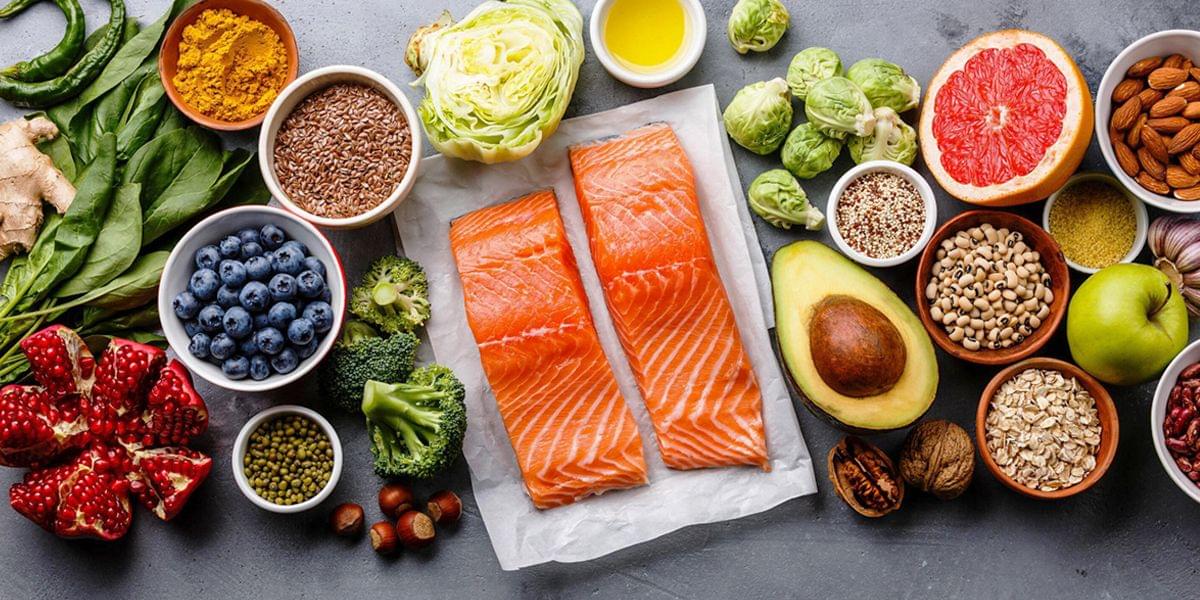 How can diet or lifestyle affect the occurrence of chronic inflammation?
Diet change is the most natural way to control inflammation:
Antioxidants in the diet like vitamin A , C and E help reduce the levels of inflammation in the blood vessels by neutralizing free radicals.
The Consumption of linolenic acid, EPA, and DHA in omega-3 fatty acids mainly cold-water fish, flaxseed, nuts, seeds, tofu, and leafy green provides anti-inflammatory prostaglandins that help with healing.
The reduction in linoleic acid (omega-6 fatty acids) found in processed foods mainly from corn, cottonseed, safflower, and sunflower oils was found to reduce inflammatory markers in the blood.
Losing excess weight, especially fat around the abdomen also helps with decreasing the level of inflammatory compounds in the blood and blood vessels.
The A.I.M is for everyone. It is especially for you if you suffer from rashes, migraines and seasonal allergies. If your hormones are out of hack causing bad PMS if you are in peri-menopause or have fertility issues. If your guts and digestion need tuning and you're experiencing bloating or constipation. It is also for you if you simply want to lose weight without losing your healthy balance.
PS: A.I.M is launched today with a special focus on women but it can be tailored to fit any child's or man's needs with the help of Clinical Dietician
Tina Chagoury
.
Hormone Balance Support

Women hormones play a pivotal role in weight management. Anti inflammatory food and seed cycling are natural way to balance female hormones: from PMS, to fertility, pregnancy, breastfeeding and menopause.

Protein, carbs and fat regulation

Each meal on the AIM has been carefully made to provide you with the combination of lean protein , healthy fats and complex carbohydrates.

Dietetic support

As soon as you enroll in A.I.M you have access to Tina's Facebook support group and WhatsApp group to answer all your nutrition questions and receive regular tips and reminders.

Dietician Approved

All meals, macros and ingredients are monitored and approved by clinical dietician Tina Chagoury.

Gut Health and digestion Support

Gut healing bone broth in addition to the choice of prebiotic containing food assist in digestion and maintenance of the gut microbiome.

Appetite Control

In addition to the healthy amount of fibers, the daily seeds and the right ratio of protein to carbs: A.I.M controls your appetite by keeping you happy and hydrated with our popular infused water and antioxidant smoothies.